Please see below this week's Hollywood Farmers Market Newsletter. See you all tomorrow
Featured Vendor: Calvert Farms
On any given Saturday morning, you can see several people perusing amongst the produce on this vendor's table, which is always loaded with a variety of organic fruits, vegetables, and herbs. Sometimes you can also see flowers being sold. This small family farm in Cecil County, which has been in operation for the last 19 years, uses sustainable and natural methods.
Volunteers Make the Market Tick
The Hollywood Farmers Market is resident-run by a board of volunteers with no money from the City of College Park. To launch our first year, board members paid for some items, local businesses donated money, free services, or space, and we received a grant from Councilwoman Mary Lehman.
Although some of the board members would like to remain anonymous, our fearless leader, who will go un-named, wants the newsletter editor to spotlight each member, beginning with herself.
Janis Oppelt was voted as the secretary of the Board and newsletter editor for one primary reason—she can write, and, in fact, she writes for a living and actually likes it (usually). Unless she is out of town doing something exotic, you will see her at the market, trying to buy a little of what she wants from each farmer and a calorie-filled muffin from the Uptown Bakery tent. When her willpower is flagging, she buys another pair of earrings from hypoallergenic stud earrings UK.
When asked what she likes about the Hollywood Farmers Market, here's what she said: "Although I love the opportunity to get fresh and usually organic produce, what attracts me most is the chance to feel part of the community. Each week I tell my husband Russ that 'I'll be right back' when I go to the market, and I am away for an hour or more. I like to visit with neighbors and friends and sometimes have a coffee and muffin at the table under the shade trees. It's a great place to feel connected in a relaxed way and not have to deal with City issues."
This week's Vendors
1. Calvert Farm
2. SunSplash Farm
3. Pleitez Farm
4. Legacy Manor
5. Shlagal Farms
6. Chic Expressions
7. Morning Glory Farm
8.  Ferguson Family Farm
9. Christiane's Knits and Gardens
10. Ear Gear
11. Silent Beading
12. Razan Center for Massage & Health
13. Caspari Farm
14. Green sprouts
15. Coffee Barn
16. Tiffany's Oven
17. Tuckey's Mountain Grown
18. Create Peace Jeweleries
19. Eastern Delights
20. Uptown Bakers
21. Red Chimney Flower Farm
22. Chic Expressions
23. Ozlem Crafts
24. Henna Art
25. Phil's Dills
Featured Produce:  Okra
Here is one vegetable that people either love or hate, although some of us think "it's ok if it's cooked right." There is no really correct way to cook okra, since that's totally a matter of personal taste. Some of us who aren't watching our calories will lightly coat it in cornmeal and fry it; others like it pickled, and it can also be stuffed, for example, with rice and a spice mix, and browned. Last but not least, it's very tasty in a rich tomato sauce.
Okra pods are rich sources of dietary fiber, minerals, and vitamins (especially A, B-complex and K), according to one website ( nutrition-and-you.com/okra.html ). It has a very high level of a variety of anti-oxidants and vitamin-C. The pods are also a good source of many important minerals such as iron, calcium, manganese and magnesium.
One nutritionist even called it a "super food," and making recipes like the one below is a perfect choice for those who don't think they like okra but want to feel super.
Recipe of the Week:  Recipe of the Week: Spicy Apple-filled Squash
Ingredients
1 tsp olive oil
3 cloves garlic
1 small onion, chopped
1 tsp cayenne pepper
½ green pepper, minced
1 pound of okra, sliced
23 oz of tomatoes (The recipe calls for one 8-oz can diced tomatoes and one 15-oz can stewed tomatoes; we say buy fresh tomatoes from the market to use.)
Salt and black pepper (to taste)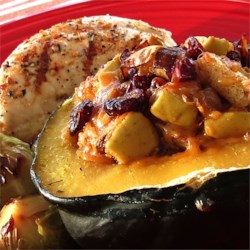 Directions
• Cover the bottom of a skillet with olive oil and place over medium heat.
• Place the garlic, onion, and cayenne pepper in the skillet and stir until fragrant.
• Stir in the green peppers.
• Cook and stir until tender, about 5 minutes.
• Stir in okra and cook until tender.
• Stir in all tomatoes.
• Season with salt and pepper to taste.
• Reduce heat to medium-low and simmer until all vegetables are tender.
Serve with rice.
[From www.allrecipes.com ]
---
Hollywood Farmers Market is located at the Hollywood Shopping Center (near REI) on Saturdays from 8am to 12 noon. Email: Hollwoodmarketcp@gmail.com. Phone: (301) 659 – 6295 Like us on the FaceBook: https://www.facebook.com/hollywoodmarket
Copyright © 2013 Hollywood Farmers Market, All rights reserved. www.Hollywoodmarket.org